In order to become an automotive locksmith in the United States, you may need a license to operate a locksmithing business or work as an employee for a locksmithing company. The exact requirements vary quite a bit from state to state, but there are some general prerequisites as well as specific state licensing (again, depending on your state or county).
While not exhaustive, the below information should help you get started on your path to becoming a licensed and qualified locksmith.
Prerequisites to become a locksmith in the United States
Auto locksmiths (and other branches of the locksmithing industry) operating in the United States must all meet some basic criteria. These include:
Be at least 18 years of age
Hold a valid business license*
Complete an apprenticeship as a locksmith or complete the required training**
Successful completion of a locksmithing certification exam**
Possess a clean criminal history or FBI Criminal History Release**
* If you intend to operate your own business. This does not apply if you are an employee working for a locksmithing company.
** Depends on your state requirements.
In brief, the best case is that you are employed as a locksmith by a company in a state with lax requirements. You'll simply need to be 18 years of age or older. In some states and counties, you'll need to have all of the above criteria met in order to operate your own locksmithing business. The fees for applying for licensing, completing courses and training, and so on, can all vary quite a bit as well.
Do you need higher education to become a locksmith?
No, you do not need to possess higher education in order to become a locksmith, although you may require additional training courses/modules and/or an apprenticeship in your state or county.
Trade schools and community colleges that offer apprenticeships generally require you to have completed high school or your GED in order to apply. A high school diploma is important since you will need basic numeracy skills in order to run a successful business as a locksmith.
One thing that is not mentioned but is obviously important to have, especially as an automotive locksmith, is a valid state-issued driver's license. If you operate a commercial vehicle or a tow truck, you'll likely need a CDL as well.
The International Association of Automotive Locksmiths (IAAL)
The ALOA Security Professionals Association (sometimes called the Associated Locksmiths of America) is widely considered to be the most important trade organization representing thousands of locksmiths across the United States and internationally.
The organization, founded in 1955, has numerous branches for specific fields of locksmithing, such as the International Association of Automotive Locksmiths (IAAL) for automotive locksmiths. Although it is not necessary to become a member of IAAL as an automotive locksmith, it is nevertheless important for increasing your reputability and trust within the industry.
Professional locksmithing certifications in the United States
There are many benefits to obtaining professional locksmithing certifications, especially with a governing body as reputable as the ALOA. They offer membership, education and certification for locksmiths as well as provide a groundwork for ethics within the industry, so it is beneficial to become a member, whether or not you need any additional licensing in your state/county.
The below infographic shows some of the key locksmith certifications and locksmith categories recognized by the ALOA: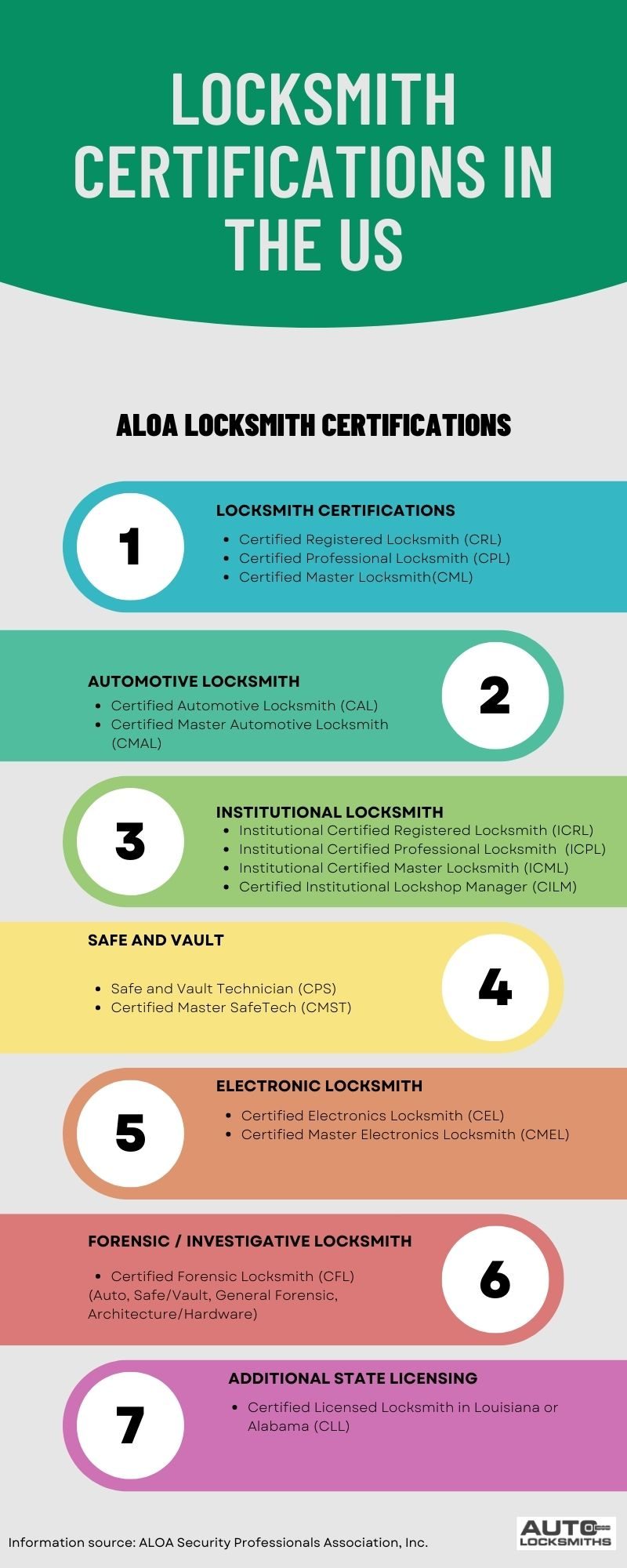 Specialist locksmithing certifications vs 'generalist' certifications
Depending on the type of locksmithing business you operate, it may be beneficial to apply for specific certifications through ALOA. Some locksmiths in the United States offer a 'general' range of services, including domestic and commercial locksmithing, automotive locksmithing, CCTV installation, and remote access entry, for example. In these cases, a general locksmith certification (e.g. sections 1 or 3 in the above infographic) may be just fine for your business.
If you operate a business that specializes in automotive locksmithing, you should try to get either a CAL or CMAL accreditation. Highly-specialized locksmiths such as forensic and investigative locksmiths may be invited to apply for the CFL certification.
Should I get certified in my state, even if I don't need to?
Yes. In states and counties with lax licensing requirements to operate as a locksmith, you should still try to have adequate training and accreditations such as those offered by ALOA. This will set you apart from the competition and make you appear to be more trustworthy and to operate as a genuine business, something that a lot of your future customers may be worried about.
Much like in other trades, there are many bad actors making a bad name for the industry. Often, these so-called 'locksmiths' may lack the qualifications and experience to get the job done right and can try to price gouge their customers. By having professional accreditations and by adhering to a code of ethics, you can help customers feel more assured that they're dealing with a reputable business and not some 'cowboy' trying to make a quick buck.
Which states require a locksmithing license?
The requirements to become a licensed locksmith depend from state to state, and some counties within certain states have their own unique requirements. As such, it is important that you consult your county and state government website to learn more about licensing requirements before commencing business operations.
The following states and regions have specific licensing requirements:
| | |
| --- | --- |
| State/Region | Licensing Body |
| Alabama | Alabama Electronic Security Board (ALESB) |
| California | Bureau of Security and Investigative Services (BSIS) |
| Connecticut | Department of Consumer Products |
| Illinois | Illinois Department of Financial and Professional Regulation (IDFPR) |
| Louisiana | Associated Locksmiths of America (ALOA) |
| Maryland | Maryland Department of Labor |
| Nebraska | Certificate/license from a local county clerk |
| Nevada | Permit issued by a county sheriff as per NRS 655.070 |
| New Jersey | Fire Alarm, Burglar Alarm and Locksmith Advisory Committee |
| North Carolina | North Carolina Locksmith Licensing Board |
| Oklahoma | Oklahoma Department of Labor |
| Oregon | State of Oregon Construction Contractors Board |
| Tennessee | Tennessee Locksmithing Licensing Program |
| Texas | Texas Department of Public Safety Bureau (PSB) |
| Virginia | Virginia Department of Criminal Justice Services |
| Hillsborough County (FL) | – |
| Nassau County (NY) | – |
| New York City (NY) | – |
| Washington D.C. | – |
Is it worth it to become a licensed locksmith?
In states where specific licenses are required to become a locksmith, it is absolutely worth it since it is a legal requirement to operate your business. In states where a license isn't required, it is still important to set your business apart with distinction from the competition by having as many professional accreditations from reputable bodies such as ALOA as possible.
One of the big challenges that locksmiths face, especially automotive locksmiths that respond to emergency vehicle lockouts, is that customers are often hesitant to want to deal with most locksmiths out of fear of being taken advantage of.
Consequently, genuine automotive locksmiths have to overcome these hurdles and demonstrate to customers that they offer reliable and dependable services and that they won't take advantage of their customers in their time of need.
Being part of a professional organization with a code of ethics can help, but it's also a good idea to join networks such as Auto Locksmiths who only accept members that have a demonstrated track record of reputability and quality. Our network puts everyday Americans in touch with genuine, independent automotive locksmiths all across the United States.
Become an Auto Locksmiths member today
Join a network of reputable, vetted and approved locksmiths and become a member of Auto Locksmiths today.