Drivers can need new keys cutting for their car, van, pickup or SUV for all sorts of reasons, and the best professionals to contact to do this are local automotive locksmiths. They can come out to you and cut or program new keys for your vehicle while you wait, at an affordable price.
When a new key is needed for your vehicle
Car keys are generally hard-wearing and reliable things, but occasionally they do break or malfunction. For instance, the key could snap in the lock of the vehicle, or the transponder chip could stop working.
If this does happen, then you will need new keys cutting, and the best people to do this are automotive locksmiths. They are specialists in everything to do with car keys and locks – plus they are mobile so will come out to you.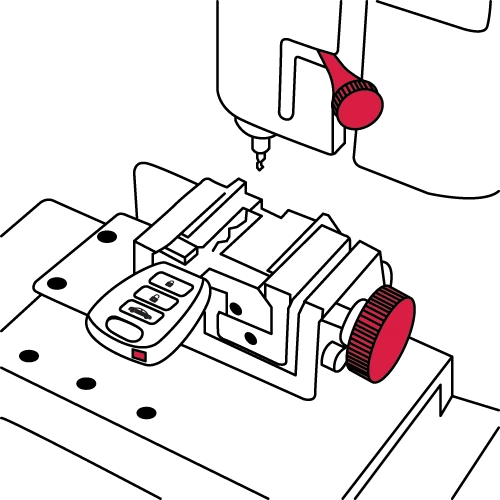 Have an auto locksmith cut you a new car key
There are a few options for getting new keys cut. For instance, you can go through your vehicle insurance provider, and they often use lock technicians to do the key cutting. Insurance companies generally only provide keys if they have been lost or stolen, and be aware that it could affect your no claims bonus if you choose to go down this route.
Another option is your auto dealership, but they tend to charge a premium price for key cutting, and, unlike an automotive locksmith, they won't come out to you.
An auto locksmith is a specialist in cutting keys, and will carry with them the latest equipment to cut almost any sort of key needed, no matter the make, model or age of the vehicle.
The cost of getting keys cut will vary depending on the type of vehicle you drive, what model it is, how old it is and what sort of key you need cutting, so make sure you ask up front what the cost will be, to ensure there are no nasty surprises later.
To find out how much an automotive locksmith will charge for your job, get a no obligation quote now!
Types of vehicle keys
There are many types of keys that can be found on the market today. At one point in time, many keys were basic blades that manually opened a lock, but since the mid-1990s, this type of manual key has become rarer as key technology has moved forward at a pace. Now, many are fitted with a transponder chip that is programmed to the specific car, and operates a central locking system.
Other sorts of keys that have gained popularity in recent years include keyless entry systems and proximity keys. Whatever type of key you have, an auto locksmith can cut and program a replacement for you. As skilled technicians, they have had extensive training in all types of vehicle keys, and this training is regularly updated, so that they keep at the cutting edge of key technology and up-to-date with any new vehicle models that are released onto the market.  
Mobile car key cutting service
Auto locksmiths are fully mobile, which means they can come out to you, wherever you are, and many of them also operate a 24-hour service, so if you find yourself stuck in the middle of the night needing new keys, they will be there for you. If it is an emergency, many auto locksmiths will get to you within an hour of you calling them.
How car keys are cut
Auto locksmiths have vans packed with state-of-the-art tools that can cut a key to any specification. They generally carry a range of blank keys with them that are ready to be cut in just a few minutes.
Once cut, most keys will need their transponder chip programming. Again, all good lock technicians will have specialist software – the same sort of software that dealers use – on hand to be able to program chips for any type of vehicle on the US roads. When making spare keys, they will be able tap into the car's ECU, extract the key's data and put it onto the key's chip.
If the original key has been lost or stolen, then once the new keys have been cut and programmed, the auto locksmith will use their specialist software to tap into the vehicle's ECU again, delete the old key's data out of the memory and input the new key's data to replace it.
What the auto locksmith needs from you
Before they cut a new key for you, the auto locksmith will need a few things from you. This is just a precaution – there are criminals out there who try to pass off cars as their own and get keys made for them. All that is needed is your car, van, pickup or SUV's registration number, its make and model and your driver's license.
Why use the Auto Locksmiths website
There are a myriad of cars, SUVs, pickup trucks, and vans on the roads in the US, but it doesn't matter what you drive; a qualified auto locksmith will be able to cut and program new keys for almost any make or model.
The problem is, finding a trustworthy technician who not only offers value for money, but is local to where you live or work, can be tricky, especially if you need new keys cut in an emergency.
This is what we are here for – to take all the uncertainty out of searching. All the technicians on this site have been approved and verified by industry experts, so you can be certain you will be engaging an experienced and trustworthy auto locksmith, who will be able to cut new keys for you and ensure you're on the move again as soon as possible.
The cost of cutting and programming new keys does vary depending on the type of key and amount of work required. Search the site and ask for a no-obligation quote from local auto locksmiths now!