Being locked out of your car is an unpleasant experience, to say the very least. Nobody wants it, nobody expects it, and very few know how to solve it. This post will look at the big dos and don'ts of being locked out of your car, why it happens, how to get back in and take back your keys, and when you should and shouldn't call an automotive locksmith or the police.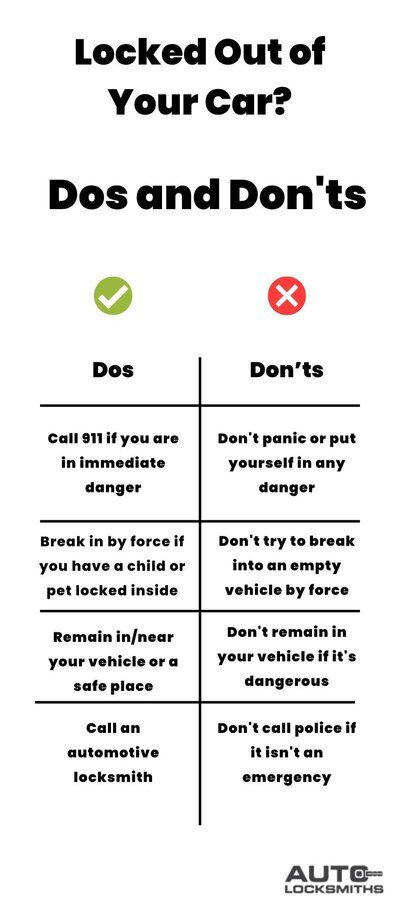 Why people get locked out of their cars
Why do drivers in the US get locked out of their cars and how often does it happen? It happens to nearly four million Americans every single year. Given that there are around 228 million drivers in the United States, that works out to about 1.75% of all drivers encountering this problem, or about 1 in every 50 to look at it another way. It may seem small on the grand scale, but being locked out of your car is no laughing matter when it happens to you.
Some of the big reasons why drivers get locked out of their car include:
Forgetting the car keys in the ignition or elsewhere inside the vehicle;
Not carrying around a spare set of car keys;
The door lock is jammed or broken;
Remote keyless entry isn't working (radio transmitter or transponder isn't working);
Your children or other young family members accidentally left the keys inside;
You've misplaced or lost your car keys.
If any of the above happen to you, it's important not to panic but instead to seek an effective solution to the problem. The good news is that a lot of these problems can be solved by yourself with some time and effort; the bad news is that in many cases you'll need to call for assistance.
What you should do if you're locked out of your car
If you've been locked out of your own vehicle, there are a lot of things you can or should do, depending on the circumstances.
Use a spare key
First and foremost, we should state the obvious: if you've got a spare key somewhere nearby or if a friend or family member can bring it to you, problem solved. Just be sure to cut a duplicate key when you have free time so that if it does happen again, you'll have a backup.
Call the police
Be aware of your surroundings at all times. Whether it's day or night, you're in a busy urban area or on the side of the road in a rural setting will largely dictate how you should act and respond to being locked out of your car.
If you're in immediate danger, call 911 for emergency assistance. If your vehicle is parked in a poorly lit neighborhood with a preponderance of crime, you don't want to be left waiting a moment longer than you need to. If it's unsafe to be near your vehicle, consider waiting in a well-lit and safer area. You might want to consider asking a gas station attendant or a shop clerk if you can wait a few moments indoors, for example. This all depends on your location, but the bottom line is to prioritize your safety.
Keep in mind that calling the police for a vehicle lockout is important when safety is an issue. In some cases, a police officer can either help you regain access to your vehicle, but more often than not they themselves will call out a tow truck or roadside assistance who will pass the (hefty) bill onto you.
If your child or pet is locked inside
If you are not in immediate danger, the next consideration is whether or not you've got a child or pet that's locked inside. A small child might be able to simply unlock the door for you, but an infant in a car seat won't be much help, nor will your four-legged friend.
On hot days or when your child/pet is in danger, you should consider smashing the side door window to rescue them. This can be done with anything from a hammer to a crowbar or a sharp rock. Smash the door window from the edges where the glass is weakest and don't smash the windshield as they are designed to sustain impacts. This also means that the side door glass will shatter, so use caution and shatter the window least likely to affect whoever is inside.
Call for roadside assistance
Drivers with car insurance that covers vehicle lockouts or AAA members should call them for emergency roadside assistance. Depending on your insurance policy and what it covers, you might have to wait half an hour or more and pay around $50 out of pocket.
Keep in mind, however, that not all insurance policies cover vehicle lockouts. It's often an add-on feature, so if you aren't covered then you may as well find an automotive locksmith yourself.
Many new vehicles also come with vehicle lockouts as part of their warranty, so your car dealer may be able to help you (although perhaps not late at night or during an emergency). You could also get coverage through your credit card, so consider these options and weigh them out before making a decision.
Call an automotive locksmith
One of the best ways to regain access to your vehicle is to call a qualified and reliable auto locksmith near you. There is a catch, however. Most automotive locksmiths aren't really well known, since they either work on behalf of AAA or your insurance provider and you may simply be used to calling them to sort everything out rather than directly contacting the locksmiths themselves.
How can drivers in the US find genuine, local auto locksmiths that offer affordable and competitive rates to the competition? That's where Auto Locksmiths can help. Our platform works with hundreds of vetted and approved auto locksmiths all across the United States. Enter your ZIP code to find an automotive locksmith near you and reach out to them for a FREE, no-obligation quote.
What you should NOT do if you're locked out of your car
These are some of the things that you should not do if you're locked out of your vehicle:
Don't endanger yourself or panic
Finding your keys locked inside of your car or otherwise being unable to enter can quickly send a flood of negative emotions your way. Embarrassment, fear, anxiety – these are natural to feel, especially if you've got places to be, but they aren't productive at resolving the problem.
Don't put yourself in any unnecessary danger and, if necessary, leave your vehicle for a safer area while you do what you need to do, e.g. call the police, call for roadside assistance, etc.
Don't smash your window unless absolutely necessary
If you're insured for vehicle lockouts, don't take matters into your own hands and smash your window to get back in. Being late for work or to pick up a friend can cause distress, but damaging your own vehicle just to save the half an hour of waiting isn't worth it.
The only time you may wish to break into your own vehicle is if there is a toddler or pet inside and you simply can't wait for assistance.
Don't call 911 in non-emergency situations
As mentioned above, police should only be called when you are in immediate danger and need urgent assistance. In these cases, it's perfectly justified to call 911, but in all other cases don't do this.
When police respond to a vehicle lockout, they'll usually remain nearby and call a tow truck or roadside assistance themselves, which can end up costing you a fortune. If there isn't an emergency, you'll have to wait 30 minutes to an hour (depending on your location) for an automotive locksmith to arrive, but the cost will likely be a fraction of what would be charged if you let the police call their preferred providers.
Don't fall prey to price-gouging locksmiths
There are a lot of hardworking locksmiths that can help you regain access to your vehicle, but there are (unfortunately) many that will price gouge you given your dire need of assistance. It's hard to separate the proverbial wheat from the chaff if you're browsing online from your phone and in need of quick assistance, which is why Auto Locksmiths only works with approved and vetted locksmiths that provide fair and transparent quotes before you put a single dollar down.
You should use Auto Locksmiths today
One thing you absolutely should do if you ever find yourself locked out of your vehicle is consider finding a reputable automotive locksmith near you by using this site.
Click on GET QUOTES and find an automotive locksmith near you today.